Horseback Riding in a Governent Shutdown: Where You Can and Can't Go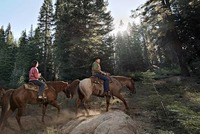 The current government shutdown means national parks, some zoos and museums, and all non-essential government agencies are currently non-operational. So if you live near a national park, does that mean you're not allowed to ride?
We did some digging and determined that public lands that are developed and run by the United States Forest Service (USFS), the National Parks Service (NPS) or the Bureau of Land Management are closed until the shutdown comes to a close. That includes national monuments, offices, bathrooms, campgrounds, day-use, shooting ranges, off-road vehicle trails - essentially anything that would require payment to use.
However, some campgrounds operated by concessionaries are open at their discretion. The best way to determine if the area you want to ride in is open is to check your local news.
Also, undeveloped areas of USFS land are still accessible. That means free trails and wilderness areas are probably open, provided it wouldn't ordinarily cost you money to access the land. Make sure to pick up after yourself when you ride though, no garbage pick-up will take place until the government shutdown lifts.
State parks are still open, so riding in one of those areas shouldn't be a problem. Just remember to check with your local news, or if you aren't sure, call your local park before heading out the door.
Articles