Halloween Hints and Tips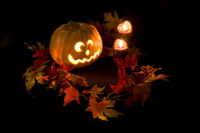 The purpose of this article is to give you an overview of the best layouts of decorations and costumes that will never get old. If you worry about spending money on Halloween decorations every year, well why not invest in some items that you can carry on for years to come.
Starting with decorations – Check out costume ideas below.
Have you ever decorated your stables, yard or just the outside of your house for Halloween before? You don't have to own these things to be able to decorate. Maybe you can get involved with the decoration for your local stables or yard. It's a lot of fun, especially when you have people to do it with.
Lights – Outdoor (or indoor in stalls and barns) lights are a very simple but effective way to decorate your yard. You can use these to either make the place look scary, or pretty, depending on the Halloween theme you like to go for. You can get these fairly cheaply at any Hardware store. This can be enough if you want to decorate simply because it can really change the look of a place when it is dark.
Pumpkins – Another easy yet effective way to decorate for Halloween. You can either use these whole or make them unique by cutting your own design into them and then choosing whether to use candles in them to make them more noticeable and potentially scarier. Using candles may not be ideal for some people, as tea light candles are usually the choice here and they will need to be replaced frequently. They can also be hard to protect from wind and rain. Therefore another option may be to use a fake, battery operated candle, which is just as good in this situation.
Sound machine – This is a great way to make the area into a scary Halloween set up to scare any visitors or friends you have. You can get motion sensor sound devices which a perfect for a 'haunted' appearance. You can either buy sounds or record your own to make them more authentic.
Has anyone got their own tips from their own experience?
Next up is costumes!
Headless horseman
This is a classic and a great one to scare people as it starts to get darker. This costume is very easy and it is good if you are on a budget. All you will need is a black cloak with a large hood - make sure it is oversized so it droops off you and you can always destress it later. As for the headless illusion, I suggest painting your face black or in a skeleton design because this is also fun. This will obviously work better with a black horse however it is possible with any colour because you will also lay a black cloak around the horse, a little more fitted than your own.
Demon
There are some great masks out there for your horse for this one. And you can give your companion a cape for a better effect. You can dress as the devil, but don't choose the generic outfit if you want to scare this Halloween. Go all out with fake blood and black clothes and capes. With this, you will be a very scary duo. Either go for a full dark face paint or a mask for yourself. This will be very effective.
Dracula
This is a great costume, but it is hard to dress your horse this way. The cape is the simple part, but trying to portray the vampire teeth on a horse is much more difficult, and this is a big part of the costume. So as a result, you would be the one to dress as Dracula and your horse would be your prop, either with a matching Dracula cape or a simple black sheet covering the horse's body and neck.
Harry potter/Voldemort
Pick a character from your favourite TV program or film, cartoon or real. For example, Harry Potter, or Voldemort, for a scarier outfit. As these costumes will be more specific, it will be harder to get the all of the pieces for the outfits; however it will be well worth it. These outfits look amazing once all put together. For your outfit you can dress as a companion, for example, you could be Voldemort and your horse could be Harry or vice versa.
Do you have your own ideas? Comment below, or write to us on facebook or twitter.
Photo by 'o5com'
Articles