Finding Cheap Horses For Sale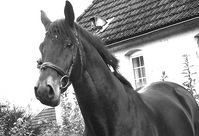 Do you want to buy a horse but feel like your funds won't stretch that far? Buying a horse is a big decision because the price to get a good breed can be extorsionate. This is heartbreaking as all horse lovers know that to have your own horse is a dream because the conection you can build and the enjoyment you get out of riding is priceless. So we want to bring you some tips to help you to achieve this and own your own horse. This guide on buying cheap horses for sale will not only include saving money on the purchase of your companion, but also on equipment and gerneral matainence.
Cheap Horses for Sale
How to Buy Cheap Horses:
The first tip is to ask around! This is one of the best ways to find the best deals. Search your local area, ask any horse owners you know, and ask friends who share the same passion you have. Ask everyone to keep there eyes and ears open to find those hidden bargains.
Check the internet - There are many websites including

Horseclicks

which display some excellent new cheap horse sales every day! Keep checking back everyday, contact people and get to know what you need to look for. With such a large selection of horses for sale on

Horseclicks

you are bound to find one that suits you and fits your budget.
Keep an eye on horse charities, for more than 1 reason - These organisations have horses and ponies for sale that have had difficult lives and there are schemes for re-homing these horses. They will only re-home safe and healthy horses so taming and training them will just be another great bonding experience.
Cheaper horses tend to be older horses - If you buy older horses they may be less expensive but you should remember there is a risk of them getting arthritis and being more susceptible to illness with may prove to be more money in the long run. If you plan to do this, do your research!
Browse horses for sale or place an ad on Horseclicks now.
Photo by 'ktylerconk'
Articles