Advertising Stallions at Stud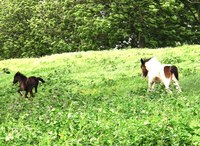 Breeding season typically starts in February for horses and continues through until July. So you want to start advertising your stallions as studs now ready for next month! Here are some top tips to get the top foals for stud and mare owners.
Look for a mare between the age of 3 and 25. However their reproductively will decrease dramatically after the age of 12 (primarily those who have never been bred again, so find out the horse's history).
Horses that have just had foals a few months before, especially older horses will take longer to recover for the next breeding season.
Make sure your stud and the mare are up to date on vaccinations and are healthy.
What would be the purpose for the foal? To sell, show, ride… this will count on the horse you choose to breed with.
Tips for how to advertise your studs
Remember to be truthful when placing the ad. Keep the details correct because this will help to prevent any future problems with customers and will give you a good reputation. For example when you are describing the stud, such as size, weight or history. Ensure you describe them honestly to give the breeders the best idea of what the horse is like.
A good representative picture is very important. This is one of the biggest things that will attract consumers to the stud. Try your best to include a clear accurate photo. Ideally multiple photos from different angles would be best to give a good outlook.
A description of the stud will again help to give the breeder information of the health and type of horse he is and what he is like. Keep this simple and not too wordy. Use key words, such as, size, price, health, history, previous breeding and any other qualities there is worth mentioning.
Include an exact price. Along with this you can then specify if it is ONO or exact, however if a price is not included this may put people off. Evaluate the type of horse and how successful possibly previous matings have been to gage a new price.
Create a simple and informative title for your advert. This will attract people to the ad. Make sure it isn't too long and contains information about the advert itself. Use only key words and the most important information because the rest can then be found in the actual ad.
Put it under right section so easy to find. Websites, such as Horsemart, have different areas on the website and specifically to Horsemart, each ad can be put into multiple sections to narrow down the search so it is more specific, for example, to advertise your stallion, you can put it under 'Stallions at Stud'. Doing this will help people find what they want more easily so it is an important step; if it was in the wrong section it will not be found by the right target as they will be looking for other items.
Photo Stephen Craven
Articles