Read the latest horse and equestrian news from around the world. Including barrel racing, showjumping news, eventing, show results and horse welfare updates! Select from the category list, the equine news you want to read about!
---
When these riders sang JD the horse happy birthday and presented him with his birthday cake, they didn't imagine that he would actually blow the candles out. What's even more impressive is that he does it all in one breath, which most humans struggle to do! Watch the amazing video and clock how happy he looks with himself after he blows them out! Video courtesy of Ithilien Stab...
---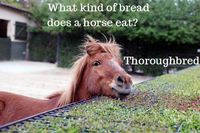 Horse humor is the best kind of humor. We've all heard the old "A horse walks into a bar" joke a million times by now. Even the horses are sick of it, which is why they've come up with some of their own. There are some hilarious horses around, we reckon a few of these horses could get on a comedy panel show, like Whose Mane Is It Anyway. Here are our favorites: ...
---
For dedicated equestrians, going to see your horse is the highlight of your day/week/month/year. You spend all day thinking about them. Sometimes we worry that our equine friends do not return these feelings, which is why it's the best feeling in the world to know that your horse is delighted to see you as well. Recognize any of these faces? Source: http://i.i...
---
Bath's are meant to be a relaxing experience, but that wasn't the case for Phantom, a 30-year-old Palomino Appaloosa. Phantom fell and became wedged inside a bathtub, which was being used as a feeding trough, while she danced around her stall in Orangeville Sacramento, and had to be rescued by firefighters. #MetroFire called for a horse stuck in a bathtub. With a...
---
Determine how 'horse crazy' you are by taking the quiz below and scoring 1 for every point you can relate to. 1-5 = Mild horse lover 6-10 = Growing enthusiast 11-15 = Getting a bit obsessive 16-20 = You should have been born a horse 1) To get the attention of family members and pets, you click your fingers and cluck your tongue 2) You can tell exactl...
---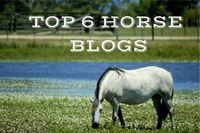 Do you love reading about horses, but not sure which horse bloggers are out there to best fulfill your need for regular and entertaining content? To help you out, we've put together some of our favorite and most popular equine blogs on the internet. There are some really great bloggers out there, and we hope this list will help you find a new one to follow! (If you're not sure what a bl...
---
The phrase 'you can lead a horse to water but you can't make it drink' looks like it could be spun into a whole new saying after seeing this amazing video that has gone viral on Facebook. Horse rider Anna Paterek recently posted a video of her attempting to cross a river with her horse, Magic. At first Magic is reluctant, but after a very persuasive effort by Anna he ...
---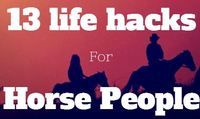 Life is an extremely complicated activity as it is. When you add a horse into that life, things get a lot more complicated (and expensive). Soon enough, you will find that that horse is your life. What if there was a way to "cheat" , so to speak, to make life easier? That's what 'life hack' means: "A strategy or technique adopted in order to manage one's time and ...
---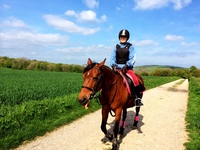 Looking after an older horse If you have an older horse that is in their 20s you will find that you have to work them differently. It's no different to when we grow older, we all start to slow down a little bit but if looked after properly they can enjoy a productive career or enjoy being a happy hacker! Here are some top tips of how to look after your senior horse…. &n...
---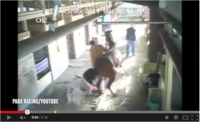 A man in Philadelphia got a little too close to comfort at Parx Racing when he was nearly bitten in the face by a horse. The mare clocked the worker as he was too close to the stable, even though there was a cone in the way to warn the worker. The horse was inches away from causing a lot of damage to the man. In the video the man throws a buckle of water of the horse as a plot of revenge. ...
---