Latest news and gossip from celebrity and International riders from the Equine world!
---
A short time ago (Oct. 3, 2015), at a horse charity event not that far away (the Longines Masters of Los Angeles), Big Bang Theory star Kaley Cuoco amazed onlookers and competed in a full Star Wars outfit. Kaley is a big horse enthusiast, and since announcing her divorce from husband Ryan Sweeting last week, she says that she has been spending a lot of time with her horses (h...
---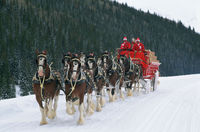 The holidays just won't be the same after the country's No.3 beer brand Budweiser announced that the traditional Clydesdale horses that usually feature in their holiday advertisements have been put out to pasture this year. Budweiser has been seeing a decrease in market share of the beer industry over the last decade as a result of the growing popularity of light and craft beers, re...
---
Bill Gates, the man behind the technology giant Microsoft, has just completed one of the most expensive property purchases this year in San Diego County. What makes this even more interesting, is that the property he has bought is weight-loss icon Jenny Craig's 229-acre thoroughbred training center in Rancho Santa Fe. Gates's daughter jumps horses competitively, which is probabl...
---