Free Jumping: What it is and Why Teach your Horse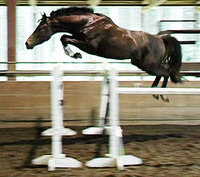 Free Jumping horse
If you have a young horse that is destined to a life of jumping, or if you are looking to sell a young, unstarted horse, free jumping is an excellent way not only to evaluate your horse's potential over fences, but also to give him a head start into the world of jumping.

Free jumping is the process in which you ask your horse to jump over one or more jumps when working free in the arena. While this can be done with nothing more than a single jump along the side of the arena, it is better to set up a jumping chute to prevent refusals.

A free jumping chute can be as long or short as you want, but ideally it should cover the length of the long side of your arena. The chute should be as wide as your jump poles, generally 10-12' in width. The entrance of the chute should be open so that you can either lead your horse into the chute, or allow the horse to enter the chute freely. The exit can either be open, so that your horse may exit freely to continue jumping, or it can be closed (usually against the end wall of your arena) so that you can catch your horse and lead him back to the entrance of the chute.

Within the chute, a horse can be asked to jump a single jump, or a series of jumps designed to improve his form or test his jumping ability. Usually you would start out with something simple such as a pole on the ground, and then you would progress to more complicated combinations of jumps.

There are many benefits to free jumping your horse. For young horses, it is a great way to build their confidence over fences before you even try to jump under saddle. By gradually building the fences, you can teach him that he is capable of jumping bigger jumps and more difficult combinations that he would normally have tried. With the side of the chute preventing him from running out, he is forced to face the jumps ahead of him. The trainer insists that the horse goes forward, so that refusal is not an option; in this way he becomes an honest jumper even before you get on his back.

You can also use free jumping to evaluate your horse's natural talent over fences. Because there is no rider to mess up his concentration or adjust his jump, your horse has the chance to jump naturally. While at first, he may not show a lot of ability, with practice many horses greatly improve their jump and become quite efficient in the chute.

Once you progress to jumping under saddle, your horse already had the confidence to jump small fences. In fact, since you will be starting with smaller fences under saddle than you used in the chute, you rarely have problems with refusals or other confidence issues that green horses generally show when jumping under saddle for the first time.

There are some drawbacks though. If you horse tends to race through the chute, or has a bad experience, it can cause difficulties once jumping under saddle. He may also fall into bad habits, jumping from bad distances or compensating in ways that are difficult to correct. If you see signs of this, it is important to either correct the problem in the chute, or stop free jumping until you can make corrections under saddle.

A horse can start free jumping as young as a year old. As long as the sessions are short and you don't push the height of the fences, your young horse should be able to manage without difficulty. It is also important to avoid too many sessions through the season. A yearling should only free jump once or twice a month, if that. As you horse gets older, you can add a bit more height and train more often. By three, your horse should be able to manage heights up to 4' and train 3-4 times a week.

As with any training, be careful to watch your horse's progress. Avoid pushing him too far, too fast. Don't repeat the same exercise too often, or you could burn him out. Free jumping can be an excellent training exercise, but should be treated with care.

Articles