What to Feed Your Horse in the Winter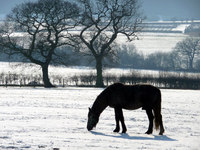 Calorie intake must be increased during the winter, due to the cold weather. Your horse will need more energy to keep warm. But you need to make sure that you up the number of calories in the correct way with the correct food.
When increasing the calories in your horse's diet you can use corn however forage is much more efficient. Forage will help keep in the internal heat – this is due to the digestion process where it will radiate heat.
To gage the amount you will need to increase the food by, you can use this calculation. Firstly finding the critical temperature which is the temperature that a horses nutritional needs are forced to change to maintain normal body temperature. The critical temperature of a horse can vary depending on age, weight and health however is normally between 30 and 40 Fahrenheit. So the rule of thumb is for every degree the temperature drops below the critical temperature, the calorie intake must be increased by 1%. The following example is for an average horse with moderate exercise, at 1,000 pounds taking in 25,000 calories with a critical temperature of 30 F. If the critical temperature decreases to 29 F you will need to increase the feed by 250 calories. The sum used here is 25,000 divided by 100 to find 1%.
Consider also using supliments in your horses diet to make sure they are getting their vitamins. Without being out in the sun, they will need to make sure they get these vitamins elsewhere to keep their health up and it will also help with maintaining their thick winter coat.
As well as increasing their calorie intake, you must make sure that they are kept well hydrated. Horses will drink from 10 to 12 gallons of water per day. Make sure that the water temperature remains above freezing so there is not any ice in the water. The best temperature, to ensure your horse drinks enough, is around 60 F. Be sure to refill their water regularly so they aways have access to it and to keep the temperature up.
Articles