Treating Tapeworms This Autumn!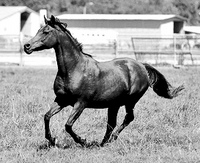 Autumn time is here again, so don't get distracted by the beautiful landscapes because you need to protect your horse against tapeworm.
Tapeworm has affected over 50% of the tested horses in America.
Tapeworm is a parasite that horses can pick up when grazing or from contact with affected hay, either eating it or from the horses bedding.
Once tapeworms get into the horses body and develop, they can cluster at the crossover openings of the small and large intestines, which can cause irritation and gut disorders.
It is important to take some preventative actions towards tapeworm as the methods for testing for the disease are very unreliable and uncertain. This makes it hard to find out if your horse has tapeworms, so preventing them from getting the disease in the first place is recommended. And here's how to…
Worming with EQUIMAX® treats tapeworm and therefore will prevent and protect your horse. This should be practised regularly, around every 6 months is recommended, primarily in the autumn.
An extra precaution you can take to tapeworms is cleaning the horse's stall and field regularly, specifically from horse dung. This will reduce the number of tapeworms present. This should be done around twice a day.
Keep your horses protected this autumn.
Photo by Ariston Collander
Articles