Things to Remember When Buying Your First Thoroughbred Horse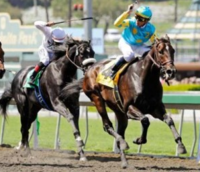 Thoroughbred horses are one of the most majestic and respected animals in the world. They hold a certain fascination for children and adults alike. While the young may marvel at the unrivaled strength and speed that these creatures possess, many adults are interested in thoroughbreds for different reasons. For instance, betting on the Kentucky Derby has become a cultural pastime for countless enthusiasts. They can either partake in the races themselves or utilize the tools of such sites as www.Kentuckyderbybetting.com to follow the races and place an educated wager. However, others look to purchase a thoroughbred to be able to enjoy their magnificence first-hand. Nonetheless, it must be remembered that a thoroughbred horse is an investment and a feeling creature. Therefore, there are a handful of important considerations that must be addressed before entering into such a venture. So, let us examine some of the key factors to consider.
Understand Which Type of Horse Suits Best
It must first be remembered that a thoroughbred is a horse known for its strength, speed and most importantly spirit. While all horses have distinct personalities, this is even more the case in thoroughbreds. One thing that should always be avoided is purchasing a high-strung horse if one is an inexperienced rider. Additionally, inexperienced horses present another problem if the owner does not have the time, inclination or the will to have it trained. It is therefore best to observe a number of different thoroughbreds in their normal activities before deciding on one over another. An excellent resource that can guide you to learn more about thoroughbreds can be found at the USEF website.
Some Signs of a Disreputable Seller

The term "horse trader" exists for good reason. There are many unscrupulous individuals who will attempt to sell a less-than-optimal horse. The buyer should be keenly aware of a horse that has a markedly bad attitude. Some tell-tale signs include a horse that will constantly pin its ears, incessantly swing its tail or a horse that is difficult to lead, groom and saddle. Often, the sellers themselves may be wary of such a horse. In these cases, it is better to walk away.
Are the Time and Money Devoted to a Horse Reasonable?
Some erroneously believe that the most expensive aspect of a thoroughbred is the initial purchase. On the contrary, these horses can be considerably expensive to maintain. Professional training takes time and proper care can squeeze a limited budget. Also, it should be remembered that a horse will require different types of care during different times of the year. One good way to save time on determining what specific needs a horse may have is by using online portals. For example, it would be very helpful to know how to properly take care of your horse during winter.
Additional Equipment is Also Necessary
Notwithstanding the care and training of a horse, a fair amount of equipment is also important to provide comfort to both the horse and the rider. Many novice owners may underestimate the price of this tack, and indeed these expenses can be substantial. This is especially the case if an owner is not certain which materials and equipment are the best to purchase. Thankfully, the internet has many resources to aid in determining which tack is appropriate for which horse under certain conditions. While many online stores advertise a multitude of items, participating in online forums is a great way to understand products and equipment. For example, you could learn about the best horse rug to purchase or any other horse-related topics. Simply stated, having a functional knowledge of tack is essential.
Will the Horse Receive the Love and Attention it Deserves?
It is an unfortunate fact that many new owners are enamored at the prospect of owning a thoroughbred but are not prepared to give these highly intelligent animals the nurturing and the affection that they need. An owner (and his or her family, for that matter) must be prepared to accept what may very well be a new family member into their lives. When these animals are treated with respect and kindness, they will give it ten-fold in return.
Is There Adequate Space for the Horse to Run?
Thoroughbreds are not lap dogs, nor do they enjoy being kept in a stable. Indeed, improper exercise can do both physical and emotional damage to these highly-spirited creatures. A thoroughbred needs a considerable amount of space to get the appropriate exercise to ensure a long and healthy life.
These are only a handful of key factors that need to be carefully thought out before purchasing a thoroughbred. Thoroughbreds can be used for a number of different purposes and thankfully, there is no shortage of information available. Countless websites abound that can help the novice owner understand the needs of these animals, while those who purchase a thoroughbred in hopes of racing can glean powerful insight into this field by following any horse racing news found across the internet. With the proper insight and planning, owning such a powerful and spirited creature can be one of the most rewarding experiences of one's lifetime.
Articles