Thanksgiving Hack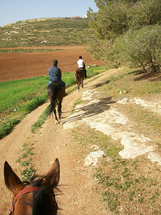 Thanksgiving is a time to be thankful, a time for food and for family. But due to the vast volumes of food you will need some exercise: a walk after lunch, or some active games, or how about arranging a hack for you, your friends and family. This is friendly for everyone, as those who cannot ride or do not want to ride can walk along with you and if you have dogs, they can be invited as well. This could become a tradition among you all and is obviously enjoyable for the horses.
An easy way to arrange this could be through Facebook. Creating an event with the details and those you want to invite will make it easy to plan a route and to know how many will be attending. Or simply call or create invitations for those you wish to invite, however this may need more organisation.
Once you have the time set and the location or route decided, make sure you prepare your horse for the hack. It can be very cold in some places at this time of year so you may need to take extra precautions for you and your horse. Make sure make the time for this.
And then once the hack is over you will need to make sure your horse is properly cooled down and put back into the field or stall, with what ever rugs you make use with food and water.
This is a great way to make sure your horse gets a sufficient amount of exercise during the holidays when you may be busier. It does not have to be on the day of Thanksgiving to be a 'Thanksgiving hack'. Plan it for any days leading up to Thanksgiving when it may suit you and your friends better.
The main thing is to have fun with your friends at this great time of year. You are keeping your horse healthy whilst doing something to love and making it even more fun by incoporating your friends.
Photo by pshegubj
Articles