Prepare your Horses for Winter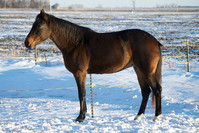 Winter is fast approaching, which means that now is the perfect time to prepare your horses for the tough months ahead. Ice storms, snow and brutal winds can make your horse care routine tougher to manage. Follow these quick tips now to make life easier for your barn this winter.
1. Meet with your veterinarian now to review your routine. Dental care, vaccinations, parasite control… these are all important parts of a regular horse care routine. During the winter, they become even more important as horses that are unhealthy have a difficult time when the temperature drops. Address any issues your horse has before the cold weather hits.
2. Stock up on your winter hay supply. Buy your hay in bulk now and store it through the winter. You should know how much hay your horses eat each month. Do the math before you buy and stock up on the hay you'll need to get your horses through the winter, happy and healthy.
3. Have a plan for your manure. You should be picking up your manure on a regular basis. If you do this already, maintaining this routine in the winter is even more important. Otherwise, you could end up with upwards of 50 pounds of sloppy much on your land when Spring rolls around.
If you use the manure for composting, keep the manure piles covered to keep nutrients in and avoid the potential that they'll cause pollution problems.
4. Prepare your barn for the elements. Winter is a major time for respiratory disease, so now is the time to ensure your barn is well-ventilated. Avoid mold growth in your barn with a ceiling fan or simply a 60-watt light bulb (mold thrives in warm, dark areas with still air.) Also important are your fences. Make sure they're mended and strong enough to withstand the elements this winter. All repairs to your barn or fences should be done now, before the major winter storms come through.
5. Finally, ensure your water supply won't freeze. Horses cannot stay hydrated simply by eating snow, so you need to be sure that your water supply is ready to go before the temperature drops below freezing. Break the ice in your tanks each morning and evening, or purchase a stock tank heater to keep your water warm enough to stay liquid.
Winter is a tough time for horses, but following these tips can make it much easier on you. Being prepared ahead of time means that you'll face fewer emergencies when the weather becomes frightful this winter.
Articles