Mane and Tail Maintenance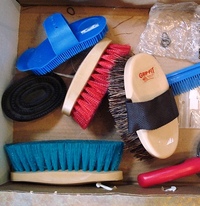 The mane and tail of a horse has many purposes. It can not only help to make the horse look more aesthetically pleasing, but they also have more useful, individual purposes. The tail is thought to keep the horses neck warm and also provide some protection against flies. The horse can use its trail in more expressive ways. This can be important for learning more about the horse. Some anatomists believe that the horses tail is part of their spinal cord and contains vertebrae. Therefore it is important to take care of the horses mane and tail.
Equipment
Aside from everyday grooming, for maintenance of your horse's mane and tail, little equipment is needed which makes it very inexpensive. All you will need is a horse mane brush or comb. These will go a long way as they can be used for many of the processes that are needed for maintenance and the others do not require any equipment.
Care
As well as people, horses can benefit from having more of some things in their diet, such as protein. The body works itself from the inside out. Products will help, but they can only do so much. Enrich the diet with protein and fibre; however make sure it is balanced because this essential to keep the horse healthy and the hair looking healthy.
Brushing or combing the mane is good because it gets all the knots out and keeps it in better condition (as it would with your own hair). Brushing the tail is not so important. Try not to brush it regularly because it can break the long hairs and your horse needs a good long tail to keep away the flies. When you are brushing, it start from the bottom and work your way up because this way the hairs are less likely to break and the tail will remain stronger.
Leave the mane on the side it falls – your horse's mane will naturally fall in one direction. Do not try to brush it over to the other side because this will not work and you may end up causing more damage to it by tugging it over. If you want to change the side that the mane falls, you will have to train it overtime.
Pulling the mane will keep it in good condition. This is personal preference: some people prefer a longer mane and it is not necessary to do. However it will be easier to maintain because it will be shorter. Effectively, pulling the mane is pulling parts of the mane out to make it thinner, shorter and more manageable.
Products
Conditioning the mane and the tail will keep the hair more hydrated and soften it as horse hair is extremely coarse so finding a good deep conditioner would be beneficial.
You can use another kind of conditioner or spray for brushing the horse's tail to help it glide through better when brushing it.
To make the mane and tail appear glossier and healthy you can invest in a glossy show spray. There are many different types available so you may need to do some research to find the one that would be most suitable for your horse's hair.
Photo by David Blaine
Articles