How to Care for Horse's in Winter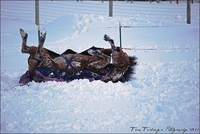 Summer care and winter care for your horse will change slightly, especially if the summer and winter temperature changes are vast in your country. This will include the UK. Although our summers are usually rainy, we can expect snow in the winter as we have had it in recent previous years; therefore keep reading for some quick and effective advice.
Keep the stables warm. Make sure you provide fresh, dry hay daily to make sure your horse is comfortable. In the winter, there can definitely be a chill which will make its way into the stables as it would into your own house; if you are able to provide a source of heating for your horse then this is recommended. But as this is not always feasible, concentrate on sheltering your horse from bad weather as much as possible, for example, by keeping the area dry and free from drafts.
When exercising or riding your horse, you must be careful to prepare your horse for the weather and possible frozen or terrain. Ensure to warm up your horse slowly and prepare your horse with adequate equipment for the temperature. And again, take the time to cool down your horse with a less intensive workout before putting your horse back into the stable.
Make sure to take extra care of your horses hooves and coat. When it is icy and cold out, your horses hooves will need more grip and can get more worn out more quickly so give a little more attention to the condition of them. The horses coat is important in winter as it is what keeps the horse warm. You want to keep it thick and healthy.
Ensure you choose the right horse rug to keep your horse warm. Thicker blankets may seem like the right option, but you need to make sure it is breathable for the horse as well. Research and feedback from other horse owners is the best way to gage what will be best for your horse. You made need more that one for different situations.
Check out horse.com for other equipment to prepare your horse for winter.
Photo of Lena by 'Five Furlongs'
Articles