Games to Play with Your Horse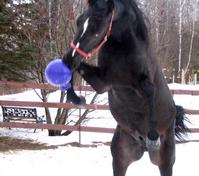 Your Horse
While riding is great fun, many horse owners would love to have other games that they can play with their horse. Here are some great ideas for having fun with your equine friend.

Free Play

Turn your horse out in an enclosed area. Start out with it clear of any obstacles. Many horses enjoy playing a good game of follow the leader. Without a lead rope, see if your horse will follow you around the arena. Bring along a few treats to reward him as he tags along. Try setting up some poles on the ground and barrels to weave between.

In the arena, bring a longe whip to encourage your horse to run. Chase him around the ring, using voice commands to encourage him. Try teaching him to turn around and change reins on command. You can set up small jumps along the arena wall, building a chute to keep your horse from running out. Some horses like it when you run around the ring with them.

Tricks

Try teaching your horse to bow. Start out with a treat, showing your horse what you have. Take the treat and hold it down near your horse's knees. When he understands that he needs to look for the treat down below, start bringing the treat back so that it is in between his legs. Continue bringing it back until he needs to bend down and bow in order to reach the treat. It may take a few sessions to teach him, but if you add the voice aid to bow, he will soon learn what you want and bow for your friends.

Lead Line Hacks

Instead of tacking up on a hot summer's day, try taking your horse on a hack on a lead line. Go for a walk with your horse, letting him graze a bit on the way. Follow paths that you are familiar with first, to make sure that you are confident with him, then start exploring areas that you would not normally be able to ride in.

Go for a Swim

If you have a lake or river nearby that is safe for horses, try riding your horse bareback into the water. Slowly ease him into the water, and enjoy a refreshing ride through it. Many horses enjoy swimming. Just make sure that you leave the saddle off – wet leather can be a real pain to clean and repair.

Horses enjoy all sorts of activities beyond typical work. Get creative and try playing with your horse. You both will have fun, and become better friends while you are at it.

Articles