Bonding with Your Horse - Part 2 – Becoming Friends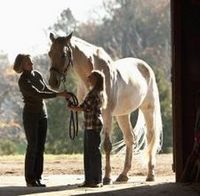 Part 2 – Becoming Friends
Once you have established boundaries, you can begin to become your horse's friend. Even in herds where there is a strongly dominant mare, you will see that many horses develop strong friendships with one another. In fact, dominant mares often choose a second-in-command to carry out her duties, so that she can enjoy the good life.

Your horse needs to become your second in command. This means that while he must always obey you, he can also think for himself and act in the best interests of the herd. He gains a sense of self esteem that allows him to offer his best, and to trust in your decisions in a way that a complete subordinate cannot.

A horse with a healthy sense of self is far more enjoyable as a companion than one who relies on you for everything he does. In fact, many low-ranking horses are timid in nature and are so busy avoiding abuse from the rest of the herd that they barely care for themselves.

To create this bond, spend time with your horse in a low pressure environment. Go for walks with him around the property and let him graze on the rich grass. Spend time grooming him and find those itchy spots. Play games in the arena, chasing him and setting up small obstacles for him to go over.

As your horse begins to learn your limits, and see you as a friend, you will find that he will trust you. Instead of trying to take things into his own hands, such as taking off when something spooks him, he will learn to turn to you for guidance.

This process is impossible without having first established boundaries. If your horse feels that he can push you around, he will continue to try to establish dominance over you. If he is more of a timid sort, he will feel that you cannot be trusted in an emergency, and he will turn to his own defenses should anything go wrong.

But with strong boundaries, and a well developed friendship, you wind up with a balanced relationship where you are the leader, and your horse is your happy second in command.

Articles