Autumn Feeding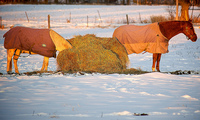 Now is usually the time when you want to prepare to change your horse's diet. The weather is progressively getting colder and we are heading towards winter. You need to aim to maintain the horse's weight. The colder weather can make this difficult and may result in weight loss.
So keeping your horses weight up is best done by, changing the feed to a high fiber, low starch source. Make sure your horse is also getting substantial vitamins and minerals.
Keep an eye on your horse's weight and condition. Illnesses can cause and stem from weight loss, so it is especially important to make sure your horse is protected and well-fed this time of year.
Try to retain the horse's heat as much as possible. This can be done by providing plenty of clean bedding daily and by the use of rugs.
Feed your horse more often, to keep energy levels up and maintain the weight of your horse.
Keep an eye out for any illnesses forming as autumn comes around. I am talking about illnesses within the horse's digestive system, such as, colic. This is due to the change in your horse's diet and routine. The days start getting shorter, so a change of routine is normal. The diet is usually now moved from grass to hay. The percentage of water present in hay is much less than in grass. And when also adding in a feed with higher fiber, you must be careful and integrate it into the diet more slowly.
To avoid digestive problems for your horse, you should ensure your horse always has access to clean water.
A great way to integrate the new diet is to start giving this feed to your horse while he's in the field, for about a week, before you bring him into the stable. Introduce him to his new diet slowly, and keep him fat and happy all autumn long!
Photo by Perry Mckenna
Articles