Learn tips and advice on how to ride and care for your horse. Here at Horseclicks we have created a wide range of extensive guides, all for your reading pleasure. Why not check out our popular guides on horse training, health, tack & equipment, and even a individual list of horse breeds. All our information supplied is from horse experts and top riders, so enjoy!
---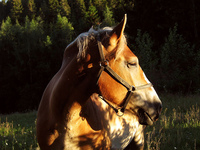 Do you expect your body to stay the same throughout your life? Of course not! Your body changes as you age, and so too do the clothes that fit it. The same thing can be said for your senior horse. The saddle that fit perfectly on his young, strong body might not be the right saddle for him now that he's past his prime. Spending a short amount of time re-fitting your horse's sa...
---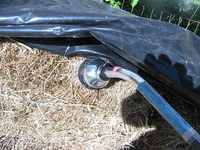 Traditionally, soaking hay is used to treat illness in horses, including respiratory issues. The benefit of hay soaking isn't just for sick horses. Soaking hay before feeding time can control dust and pollen, limit non-structural carbohydrates and remove proteins and minerals that can be harmful to your horses. Recent research shows that soaking hay can help manage many equine health ...
---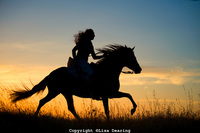 Do you have a mature horse? Have you been considering putting him or her into retirement? Before you decide to send him to pasture, consider this: Dr. Karyn Malinowski, an equine extension specialist at Rutgers University, says that many horses can benefit from regular exercise as they age. Adjusting their diet and lifestyle can add years onto your older horse's life, and considerably cha...
---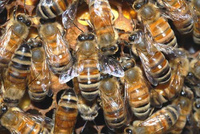 One horse died, and a second was injured after a swarm of African Killer Bees attacked at a ranch in Arizona this weekend. The first horse was stung repeatedly and died on the scene. The second was treated by a local veterinarian and is expected to recover. When the owner of the horses observed the attack, she ran towards her horses and was stung 20 times on the face and neck. ...
---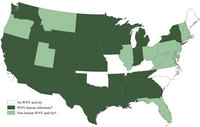 West Nile Virus (WNV) is a disease spread through the bite of infected mosquitos. Both humans and horses are susceptible to WNV. If your horse becomes infected with the disease, there is no treatment available which is why it is so important that you know and understand your options when confronted with an outbreak of the virus. How Can I Protect My Horse? There is a vaccine...
---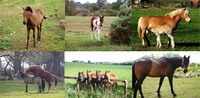 There are many different names for each type of horse which you may not be familiar with. We don't mean the breed, but the names for whether it is an adult female, or a baby male. You will see words such as gelding and yearling across the site describing the gender. If these terms are unknown or fuzzy to you, we want to clear them up to make sure that you read a horses information correct...
---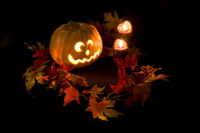 The purpose of this article is to give you an overview of the best layouts of decorations and costumes that will never get old. If you worry about spending money on Halloween decorations every year, well why not invest in some items that you can carry on for years to come. Starting with decorations – Check out costume ideas below. Have you ever decorate...
---