Learn tips and advice on how to ride and care for your horse. Here at Horseclicks we have created a wide range of extensive guides, all for your reading pleasure. Why not check out our popular guides on horse training, health, tack & equipment, and even a individual list of horse breeds. All our information supplied is from horse experts and top riders, so enjoy!
---
Mustangs, America's wild horse, can amaze and inspire even the non-horse lovers when seen galloping across the plains of unbridled America. Mesteno, in Spanish translating to a word for stray animal is where the word Mustang originated, much like the beginning of Mustangs in America. Spanish conquistadors were the first Europeans to import horses to America and they were the first "mo...
---
The desire for a horse with splashy color has not been a recent trend. Breeding for the paint pattern dates back to the Barb horses of the African frontier and eventually through the Spanish conquistador horses. Unintentionally they carried, preserved and created the color gene for all American-bred Paint horses we enjoy today. Paint horses are known to be as sturdy as the wild w...
---
An attraction to golden horses can be traced back almost to the time when horses and human first exchanged their mutual respect for one another. Some Greek mythology experts suggest that Pegasus was not white but had a creamy, golden coat instead. Ancient artists adored the golden horse though oil paintings and in recent times, the unabashed interest in the golden coat color is still holding st...
---
The soft eyes, slow gestures and typically dappled grey coat are all qualities that make this gentle giant still well known and respected as generations separate more and more from farm and horse work. Originally from the Perche region of France, Percherons have been bred for hundreds of years before officially receiving the name 'Percheron' after a draft horse breeder from La Perch...
---
While a relatively new breed, the Rocky Mountain horse is gaining popularity throughout many parts of the world as a comfortable and smooth trail horse. Beyond its unique coat pattern, its special gait has interested many first time buyers in this "rare" breed. Registered Rocky Mountain horses only reach about 20,000 in total over 11 countries but as more people retire, the demand f...
---
Imagine 15th century England, the setting of England's Hundred Year's War. Mounted knights awaiting battle sat atop towering beast-like horses wearing protective shields and masks, intimidating horseless combatants. The echo of stomping, colossal hooves, charging through a dark forest could make any rival band or enemy tremble with fear. Grimacing in size but not in nature, the Shire ho...
---
The largest single breed registry of any animal in the world is not a beloved dog or cat breed but is actually the Quarter Horse. Indisputably America's most beloved horse might be considered today as the World's most beloved horse. Over 5 million Quarter horses have been registered across the world. The number of registered Quarter Horses overseas, especially in Europe have been on the...
---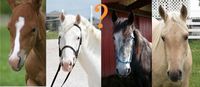 Buying a horse can be a lengthy, sometimes risky process. You may fall in love with a horse at first sight and then buy it without fully researching the horse's history and temperament. We have compiled 8 easy-to-follow steps that we hope will aid you in the horse hunt and make sure that your horse buying experience is an enjoyable one! Step 1: Research the breed you are i...
---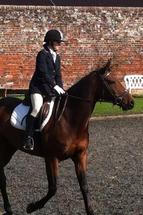 Ever wondered what the correct etiquette is when warming up your horse at a competition? HorseClicks customer Nicola Strong looks at how not to 'hack off' other riders in the warm up arena. Recently at a local dressage competition I found a corner of the warm up arena to work in and play about with some chages of the rein and a few 20m circles. We first went and had a stretch, wamr...
---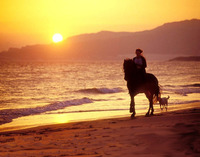 If you're thinking of heading west and booking a ranch stay in North America, riding holiday specialist Ranch Rider has drawn up a list of travel tips to make sure its the holiday of a lifetime. Do certain destinations suit different levels or rider better? Every destination and ranch offers something new so it's not really that simple, and riders tend to be grouped according to their...
---