Learn tips and advice on How to ride a horse, how to care for your horse plus read horse training tips and get general information and advice from horse experts and top riders!
---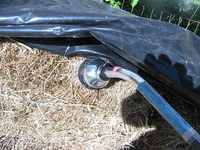 Traditionally, soaking hay is used to treat illness in horses, including respiratory issues. The benefit of hay soaking isn't just for sick horses. Soaking hay before feeding time can control dust and pollen, limit non-structural carbohydrates and remove proteins and minerals that can be harmful to your horses. Recent research shows that soaking hay can help manage many equine health ...
---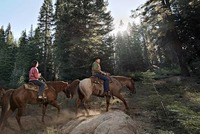 The current government shutdown means national parks, some zoos and museums, and all non-essential government agencies are currently non-operational. So if you live near a national park, does that mean you're not allowed to ride? We did some digging and determined that public lands that are developed and run by the United States Forest Service (USFS), the National Parks Se...
---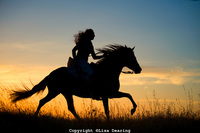 Do you have a mature horse? Have you been considering putting him or her into retirement? Before you decide to send him to pasture, consider this: Dr. Karyn Malinowski, an equine extension specialist at Rutgers University, says that many horses can benefit from regular exercise as they age. Adjusting their diet and lifestyle can add years onto your older horse's life, and considerably cha...
---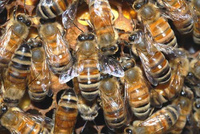 One horse died, and a second was injured after a swarm of African Killer Bees attacked at a ranch in Arizona this weekend. The first horse was stung repeatedly and died on the scene. The second was treated by a local veterinarian and is expected to recover. When the owner of the horses observed the attack, she ran towards her horses and was stung 20 times on the face and neck. ...
---

As summer turns to fall, don't let your guard down on this deadly hoof condition. The reason laminitis in horses increases in the fall is fructan, a plant sugar that contributes to metabolic imbalances that can lead to laminitis. Produced during photosynthesis, fructan is a fuel source that helps the grass grow. Levels of the sugar taper off when the plant reaches matur...
---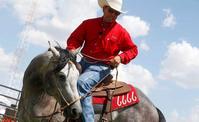 Platinum learned to obey orders and do as he's told — eventually, at least. The 4-year-old quarterhouse stud starred in the horse demonstrations Friday, Sept. 6, at the National Cowboy Symposium and Celebration. Trainer Chance O'Neal explained — as with teaching young humans — patience and persistence are key. And like training anyone, he said, expectat...
---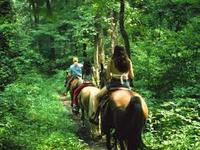 Every state boasts horse trails that promise beautiful views and challenging terrain. These are our picks for the top 10 trails in the United States to take your horse on vacation, or just on a quick ride. Totsonii Ranch Canyon de Chelly, Ariz. Channel your inner John Wayne and trek through the wild West with Navajos as your guide. "On a longer ride into the c...
---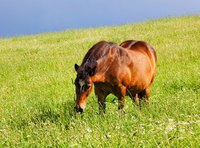 A recent collaborative project between equine researchers from the University of Minnesota and the University of Kentucky has resulted in an app that helps horse owners better determine their horse's body weight. Knowing the weight of a horse relative to the ideal weight of his breed can help owners better determine their horse's nutritional needs and medication dosage. Born f...
---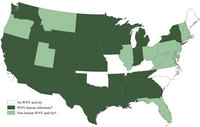 West Nile Virus (WNV) is a disease spread through the bite of infected mosquitos. Both humans and horses are susceptible to WNV. If your horse becomes infected with the disease, there is no treatment available which is why it is so important that you know and understand your options when confronted with an outbreak of the virus. How Can I Protect My Horse? There is a vaccine...
---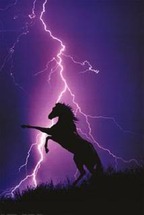 Lightning can strike during any time of the year, leaving unaware riders and their horses at risk. Follow these suggestions to ensure you and your horse stay out of harms way. Lightning can strike year-round, but spring and summer are peak seasons for electrical storms. Although your risk of being struck is low, it is something to take seriously. The National Weather Service (NWS) rep...
---