Learn tips and advice on How to ride a horse, how to care for your horse plus read horse training tips and get general information and advice from horse experts and top riders!
---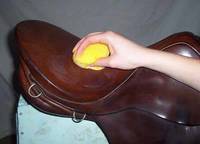 If you own your own saddle, it is very important to keep it clean. This is what keeps the leather in good condition and maximizes the longevity of your saddle. A saddle should be lightly cleaned at least once a week, and thoroughly cleaned at least once a month. The more often you ride, the more often you should clean it. Even if you have not been riding, a saddle in stor...
---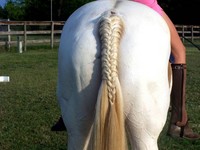 Once you have the hang of braiding the mane, you might want to learn how to braid a tail. A well-braided tail can be the perfect way to set off well-developed hindquarters. If your horse has weak quarters, you would probably be best to leave the tail unbraided. You will need a double-length piece of wool to braid the tail. It is also helpful to have a plastic needle or a ...
---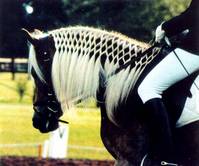 It is not uncommon to see horses at shows sporting messy forelock braids that are bumped up like the braids along their manes. Not only do these braids look terrible, they are the sure sign of an amateur braiding job. Proper forelock braids are done with an upside-down french braid. While this may sound particularly difficult, with a bit of practice, it isn't all that har...
---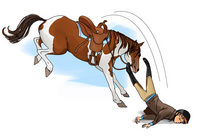 We have all hear it one time or another in our riding career; it takes 10, 50 or even 100 falls to make a good rider. But why is this true? And how many falls does it actually take? While the saying is, of course, mostly there to encourage you after tumbling off in a lesson, there is some truth to it. Falling off a horse teaches you as much as staying on in many cases. ...
---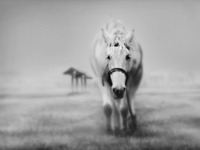 When deciding to bring your horse home, you may be wondering how many horses you really need to keep him company. You have likely heard that horses are herd animals, and prefer to live with their own kind, but how important is it? A horse can survive on its own. However, the horse likely is not going to be a very happy camper. Some horses turn to their human companions fo...
---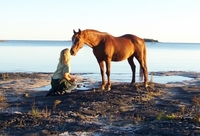 It seems amazing, that with a simple little device horses can be taught to perform tricks of all sorts. With nothing more than a little click as a reward, horses bow, nod, and answer numeric problems. But how is it done? To understand clicker training, it is important to understand the theory of replacement. When training a horse, you often start out with one aid, and gra...
---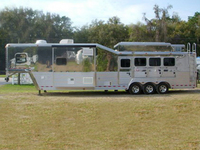 Horse trailers come in several different loading and shipping styles. Each style offers advantages and disadvantages to the owner and the horse. When purchasing a horse trailer it is important to consider which style best suits you and your horse. Straight Load This is the most common load style. In a straight load trailer, horses are brought in from the back and are...
---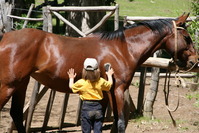 One of the nicest ways to bond with your horse is to spend time grooming him. While sometimes it is ok to just give your horse a quick dust-off before you ride, every so often you should spend some extra time with him just getting to know him as you groom. So what is involved in grooming anyway? Most people think of it as merely running a brush over the horse, picking its feet ...
---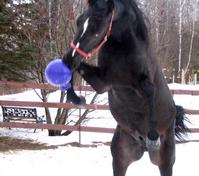 While riding is great fun, many horse owners would love to have other games that they can play with their horse. Here are some great ideas for having fun with your equine friend. Free Play Turn your horse out in an enclosed area. Start out with it clear of any obstacles. Many horses enjoy playing a good game of follow the leader. Without a lead rope, see if you...
---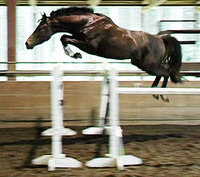 If you have a young horse that is destined to a life of jumping, or if you are looking to sell a young, unstarted horse, free jumping is an excellent way not only to evaluate your horse's potential over fences, but also to give him a head start into the world of jumping. Free jumping is the process in which you ask your horse to jump over one or more jumps when working free in the ar...
---