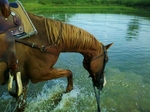 offline now
| | |
| --- | --- |
| views: | 403 |
| treats: | 0 |
| awards: | 0 |
| friends: | 0 |
| dates: | 0 |
| faves: | 0 |


about me:
my name:
Trooper
age:
14
i'm from:
McMinnville
country:

United States of America
gender:
Male
breed:
when I arrived:
Trooper was caught as an untrained six year old near Disney World and the second I saw him spinning in circles off the trailer, crying and snorting loudly for companionship, I knew I had to have him.
bio:
Trooper is an all-around guy. He's quiet, can ride alone or in a group, is not afraid of slopes, trailers, or water. He stands quietly for the vet and farrier and doesn't mind bath time. He trained in jumping, dressage, pleasure, and trail.
special features:
Trooper follows me in the pasture, comes to see me at the fence, and loves water. He splashes in it, rolls in it, lays in it - if there's water around, he wants in.
likes:
Trooper loves attention. Even if you can only hang out sitting next to him and reading a book, he's happy to stand beside you or be petted.
dislikes:
Trooper is not a fan of being longed. A round pen is fine, being jogged by hand (can jog next to you as you walk!) is fine, but please avoid the line - that's too close to the whip he hates to see!
my album: