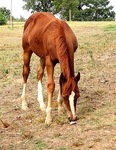 offline now
| | |
| --- | --- |
| views: | 456 |
| treats: | 0 |
| awards: | 0 |
| friends: | 0 |
| dates: | 0 |
| faves: | 0 |


just 2 days more till my birthday!
about me:
my name:
Stark
age:
2
i'm from:
Arkansas, Beech grove
country:

United States of America
gender:
Male
breed:
when I arrived:
I owned this colts mother, she was a 14.3hh foundation type grade quarter horse mare with a very sweet temperament. She was bred back to a 15-15.1hh QH stud, but I do not know his registered name, just what I was told by her previous owner.
bio:
Sweet colt, flashy with four white socks and a blaze. Super sweet, in your pocket colt. Raised up right, easy to work with, will be easy to break and train. He is halter broke, picks up feet, and leads.
special features:
Will top out around 14.1-14.3, foundation body type.. Extremely stocky and built like a tank. Will make an excellent horse, level headed and sweet tempered. Good confirmation, sweet head, straight legs. Already very muscled.
likes:
He loves kids, my TODDLERS play with him in the pasture, no halter or anything. They both also lead him around with no problems and my youngest (2 year old) sits on him for a minute here and there, nothing bothers him!
dislikes:
He seems to like everyone and has no quirks or vices. No kick or bite, not a mean bone in this colts body.
my album: