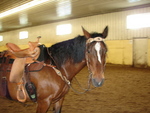 offline now
| | |
| --- | --- |
| Views: | 759 |
| treats: | 0 |
| awards: | 0 |
| friends: | 0 |
| dates: | 0 |
| faves: | 0 |


about me:
my name:
Sassy
age:
14
i'm from:
Minnesota, North branch
country:

United States of America
gender:
Female
breed:
when I arrived:
bought this horse from primed and Painted ranch, 2006
bio:
Sassy loves to go FAST..... She is very playful and has a heart of GOLD. She has had 60 plus days professional training this past summer... I wanted to do games....(and do them well)
special features:
Sassy is very kind, loves all farm animals, frequently found nuzzling the barn cats, dogs, or watching the chickens....
likes:
Sassy loves Treats! Carrots, apples, you name it! She absolutely loves kids
dislikes:
Sassy doesnt like being left behind, always ready for a ride.....
my album: