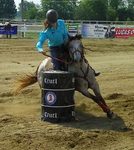 offline now
| | |
| --- | --- |
| views: | 716 |
| treats: | 0 |
| awards: | 0 |
| friends: | 0 |
| dates: | 0 |
| faves: | 0 |


about me:
my name:
Really Cookin'
age:
17
i'm from:
Indiana, New palestine
country:

United States of America
gender:
Female
breed:
when I arrived:
My arabian mare had just retired and I was looking for another horse to ride. I friend said she knew someone and the next day I drove out there. I rode her, fell in love, and bought her on the spot. When she got home she was really shy. NOT NOW!
bio:
My name is Really Cookin' but everyone just calls me Cookie.I'm a 14 year old POA but no one knows who my parents are.I LOVE to run!I compete in Indiana High School Rodeo & many open shows all over state.My favorite thing to do besides run is eat!
special features:
I can run 16 seconds on a standard barrel pattern but have ran 14's in smaller arenas. I can run 22 and 23 in Pole Bending. I lunge and lead without lead rope nor halter and best of all, I know how to bow!
likes:
Hay, treats, running, sleeping, baths, jumping.
dislikes:
Moving water, horse flies.
my album: