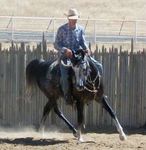 offline now
| | |
| --- | --- |
| views: | 507 |
| treats: | 0 |
| awards: | 0 |
| friends: | 0 |
| dates: | 0 |
| faves: | 0 |


about me:
my name:
Khartoons Delliteful Rhaji
age:
9
i'm from:
California, Brentwood
country:

United States of America
gender:
Male
breed:
when I arrived:
Purchased this awesome gelding as a yearling from the breeder.
bio:
This Grey Gelding has 3 white socks, snip, 15.1H, 900lbs, AHA/PTHA, Double Registered, Sweepstakes nominated. He is well boned, level headed and loves to please. Great in the arena and excellent on the trail. Not your typical Arab, he is very calm.
special features:
He is my pocket pony, gives you a back rub with his lip, hug you and enjoys kisses on his nose. He is excellent at opening gates to let himself out.
likes:
Loves the trail, he is use to chirckens, dogs, cats, peacocks, cattle and goats.
dislikes:
This young horse is very sweet and love able, he is very calm and level headed. He loves new trails and an adventure.
my album: