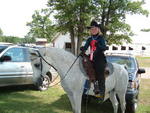 offline now
| | |
| --- | --- |
| Views: | 1399 |
| treats: | 0 |
| awards: | 0 |
| friends: | 0 |
| dates: | 0 |
| faves: | 0 |


about me:
my name:
I.K. Kamence
age:
25
i'm from:
Wisconsin, Florence
country:

United States of America
gender:
Male
breed:
when I arrived:
I first met my owner, Katie when I was 13 years old. I used to live in southern Wisconsin when her mom found me. Since then we've been an insprable pair. She showed me at the local shows and the fair every year since she was 10 years old.
bio:
Kam is fleap-bitten grey Arab with personality. He stands for the vet, farrier, loads, clips, bathes, ties, and is a pretty easy keeper. He's been shown in both western and hunt-seat walk trot, western pleasure, trail and showmanship.
special features:
He is a great walk-trot pony for any age, and is the perfect 4-H horse for anyone starting out.
likes:
He loves peppermints of any sort, as well kids.
my album: