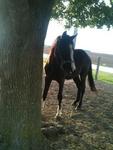 offline now
| | |
| --- | --- |
| views: | 874 |
| treats: | 0 |
| awards: | 0 |
| friends: | 0 |
| dates: | 0 |
| faves: | 0 |


about me:
my name:
Harley
age:
5
i'm from:
Indiana, Huntington
country:

United States of America
gender:
Male
breed:
when I arrived:
He was in a pasture with a filly and a young foal. I came across him on Craigslist. I bought him, in hopes to train him better. I did succeed, he just needs broke to ride. He's saddle broke though. He was in a very messy condition before.
bio:
Harley, is a black gelding around 14-15hh. He's a fantastic horse. He loves people, and other horses. He is easily trailered, and easily saddled. I can pick his feet up. He loves being groomed, and he stands still. He just needs saddle broken.
special features:
He knows how to smile, he can pick his two front feet on stuff and stand up on blocks or bricks.
likes:
Geldings, and mares. He loves people, but not strangers at first. He adapts fast to people though. Treats, and apples are his favorite. He loves sweet feed, and salt blocks.
dislikes:
Strangers, his belly touched, Pygmy goats.
my album: