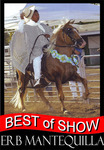 offline now
| | |
| --- | --- |
| views: | 414 |
| treats: | 0 |
| awards: | 0 |
| friends: | 0 |
| dates: | 0 |
| faves: | 0 |


about me:
my name:
ERB MANTEQUILLA
age:
14
i'm from:
Texas, Weatherford
country:

United States of America
gender:
Male
breed:
when I arrived:
ERB Mantequilla. Palomino Peruvian Paso Gelding with MANY years of professional training, handling, and showing. He is SIMPLY BEAUTIFUL; A real knock out example of Peruvian Paso beauty at its best!
bio:
13 CHAMPIONSHIP TITLES, Gorgeous DARK GOLDEN palomino gelding. Flashy, traffic-stopping action, coupled with SMOOTH ride. Grooms, tacks, and trailers easily.
special features:
An OUTSTANDING show gelding! Great potential as a fabulous parade gelding. Need experience, intermediate rider. Not a beginner's horse. Push-button show professional training, evidenced by his numerous Championships.
likes:
Easy keeper. Loves turn outs with other gelding(s).
dislikes:
n/a
my album: