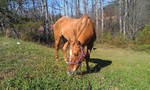 offline now
| | |
| --- | --- |
| Views: | 283 |
| treats: | 0 |
| awards: | 0 |
| friends: | 0 |
| dates: | 0 |
| faves: | 0 |


about me:
my name:
draegon
age:
17
i'm from:
North Carolina, Old fort
country:

United States of America
gender:
Male
breed:
when I arrived:
Draegon came to me over a year ago, he was skinny, had rain rot, and needed q lot of TLC.. he looks good now.
bio:
Draegon is a 15 year old red dun quarter horse gelding, who has had barrel training. I trained him myself on barrels and he loves his paturn. He ties, loads, trims, works off leg press, and side passes. Serious inquiries only.
special features:
Barrel races, Crosses water, works off leg press, side passes, loads, ties, bathes, stands for farrier, bomb proof, neck reins, and knows all of his groundwork.
likes:
He loves his barrel paturn, and loves children:)
dislikes:
He doesn't like peppermint.
my album: