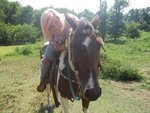 offline now
| | |
| --- | --- |
| Views: | 1178 |
| treats: | 0 |
| awards: | 0 |
| friends: | 0 |
| dates: | 0 |
| faves: | 0 |


about me:
my name:
Classie
i'm from:
Tennessee, New johnsonville
country:

United States of America
gender:
Female
breed:
when I arrived:
last year my friend had gotten a new horse and knowing i was looking for one, asked if i wanted to come ride. i went and took some pictures for the yearbook on her, and i loved her. the next month she came home with me(:
bio:
classy is 13 years old, and is very,VERY calm. she is a bay tobiano paint. is about 15 hh aprox. i have hauled her, and trail rode her. my neice rides her and she does amazing! she does great in a rodeo inviroment. she is amazing!
special features:
she is wonderful with other horses! she loves bath's and loves treats. she'll give kisses, cause she is soooo lovable(:
likes:
apples, carrots, she loves trails, and loves cows,
dislikes:
being stalled 24'7
my album: