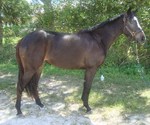 offline now
| | |
| --- | --- |
| Views: | 604 |
| treats: | 0 |
| awards: | 0 |
| friends: | 0 |
| dates: | 0 |
| faves: | 0 |


about me:
my name:
"Alke's Baby Groove" (Groovie-Grace)
age:
5
i'm from:
Florida
country:

United States of America
gender:
Female
breed:
when I arrived:
Two years of research went into picking the perfect stallion to pair with my mare! Groovie had her name before we ever saw her... she was a GROOVIE MOVER in her mom's belly the whole time...
bio:
Groovie was raised and handled since day one. The hard work has been done for you! She ties, stands, good for farrier & vet, she has been ponied alongside her dam, and other horses her first year on the trail, and on the roads.
special features:
Groovie has had extensive round-pen work, has been bridled, saddled, and ridden around the track (never pushed)! She swims to keep up her endurance, and works on the flat with her trainers! She's ready to be a part of your training program!
my album: